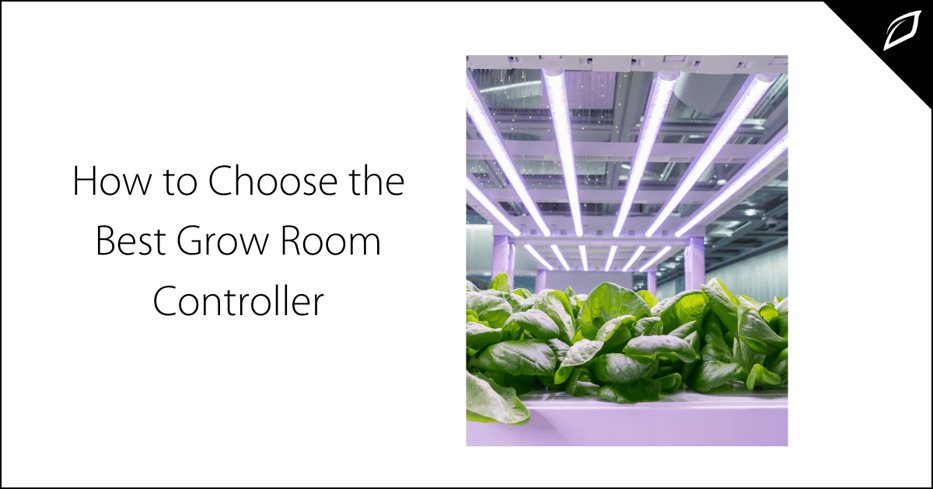 Expanding an indoor farm from a single small room to multiple grow rooms can create—for lack of a better expression—some growing pains. Entrepreneurs often find that what works in a small grow room with a few plants doesn't work in larger grow rooms. The environment is harder to control. Precise nutrient recipes are harder to hand-mix. And it's harder to do it all with so many things pressing for time and attention.
That's why most newly expanding growers find themselves in the market for a new grow room controller in short order. The best option will be easy to set up, customize, and scale. It will also offer an integrated smart farming approach that gives you total control, from anywhere, 24/7. Finally, the best grow room controller needs to be affordable.
Finding an Integrated "Smart Farm" Grow Room Controller
The environment produces most of the factors that will determine the health of your plants. From air quality and humidity to temperature and light, keeping the environment of your plant maximized will decide whether or not you have a strong, healthy plant, and a big yield to go with it.
Maintaining total control of indoor farms is one of a grower's most pressing challenges. Slight changes in light schedules or light intensity stunt marijuana plant growth. Temperature can also drop up to 15 degrees during dark periods, and wide temperature swings stunt growth and cut into yields, too. For all growers, total environmental control is a must.
And, of course, precise nutrient dosing, soil moisture and pH levels, and carbon dioxide (Co2) levels are equally as important as temperature control, That's why the best grow room controller will offer an integrated smart farm approach that encompasses environment and nutrition management. Look for three key elements in an integrated smart farm approach:
Environmental Controllers: Controllers come in varying sizes and include an environment sensor module that measures air temperature, humidity, CO2, barometric pressure, light, and vapor pressure. Remote power relays wirelessly connect hardware like humidifiers, lights, and heaters, turning them on and off based on sensor measurements, timers, or preset schedules.


Irrigation Controller: A soil moisture sensor enables the irrigation controller to avoid over- or under-watering, and it features built-in modeling of water demand based on factors like evapotranspiration, light, and leachate volumes.


Nutrient Controller: Hand-mixing nutrients invites a lot of variability; Nutrient dosing controllers include all the sensors and equipment to add and mix water, nutrients, and pH buffering agents to produce precise feeding recipes.
Taken together, individual parts of an integrated grow room controller hold in check the delicate balance of an indoor farm's ecosystem. The best grow room controller should be modular and scalable, too. A second environmental sensor can be added to an environmental controller when an indoor farm expands, for example. And each component can be deployed individually. That customization helps meet varying needs — and it holds prices in check.
Look for a Grow Room Controller to Offer 24/7 Connectivity, Support
It's critical for growers to have total control of a grow room—even when they're not there. Between day jobs and weekend trips, however, dropping everything to check EC measurements isn't always an option. That's why 24/7 mobile connectivity is key.
Look for grow room controllers to be compatible with a mobile app. And checking EC measurements via a smartphone anywhere there's an internet connection is a great first step. But it's critical that an app also allows growers to make critical adjustments when an EC measurement is amiss. Look for a grow room controller app to:
Turn hardware like humidifiers, lights, and heaters on and off
Adjust timers and schedules
Receive alerts via email or push notification based on predetermined sensor measurements
Adjust rules for alerts
Smartphone apps make things less complicated. Regardless of how easy the app is to use, however, the best grow room controllers come with top-notch support. From planning to troubleshooting to installation, look for a company to provide great support for your grow room controller at each step of the process.
Customizable features like environment monitoring, environment controls, irrigation controls, nutrient dosing, remote monitoring, and complete automation are all within reach with proper planning and support. Request a consultation to learn more.