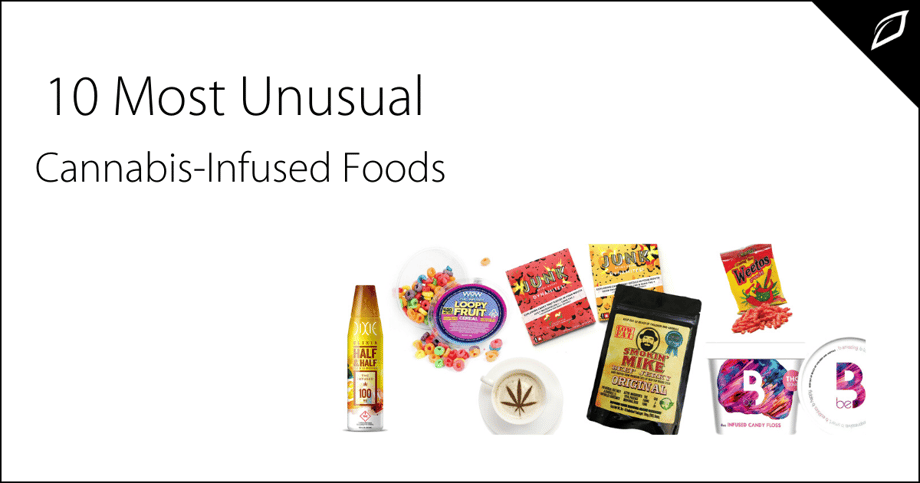 Just a few short years ago, this headline could not have existed. Unusual cannabis-infused foods were just a pipe dream or only available to someone with a vast knowledge of infusing foods. The days of pot brownies and gummies are fading into the sunset. From snacks to proteins, and coffee to sauces, let's take a look at some truly unique and unusual cannabis-infused foods on the market in 2020.
Beef Jerky - A hearty snack, easily enjoyed on the go by anyone who eats meat. Initially, I found several brands of cannabis laden beef jerky, but after some research, the only one worth mentioning is Smokin' Mike Beef Jerky. Great for people with active lifestyles or that have restrictive diets that don't include sugary, gluten packed desserts. It was the first place winner of Edible Magazines' Best Beef Jerky Award in 2016 and is industry-recognized for high quality and effectiveness. Each bag has 100mg of THC, so be mindful not to eat the whole bag!
Breakfast Cereal - California brand WOW makes several of your childhood favorite breakfast cereals, laced with THC. It's your go-to munchie, which also gets you high. They have three different varieties; Crunchy Caps is a nod to Captain Crunch, Toast Crunch is similar to Cinnamon Toast Crunch, and Loopy Fruit is their take on Fruit Loops. Next time I'm in Cali, you can bet I'll be searching for a cereal high.
Coffee - Give a whole new meaning to wake and bake by starting your day off with a cup of cannabis-infused coffee. A potent brew that combines the perfect blend of gourmet coffee with high-quality cannabis oil to provide a fast-acting and energizing high. And while this may seem counter-intuitive, I found most of the infused coffee delicious and subtle. There are too many brands to name here, but you can find whole bean, ground, and k-cups.
Dehydrated Fruit - Looking for something a little healthier? Try reaching for one of several THC infused dehydrated fruits instead of sugary gummies. Many companies are now offering a wide selection of dried fruits. I'm fortunate enough to attend many cannabis networking events, and I was thrilled when I found a booth with samples. Mango was my favorite, followed by papaya and kiwi. Pineapple and coconut round out my top five. With so many companies offering dried fruit, you'll quickly find a selection at your local dispensary.
Pop-Rocks - Another old-school snack makes the top 10 list. Harkening back to my childhood memories, pop-rocks were a fizzy favorite, along with candy cigarettes. Yea, that was a thing. Finding cannabis-infused pop-rocks made my heart sing, and my mouth explode with sugary goodness. So if you're looking for an explosive way to enjoy your THC snack, this could be it.
Cotton Candy - I was never a fan of cotton candy, but you've got to admit, it's an incredibly creative use of cannabis oil. California based B-Edibles makes the candy floss from naturally gluten and allergen-free, non-GMO organic sugar, and comes in a variety of different flavors. Some of the flavors include lavender, rose, watermelon, mango, orange, coconut, and pineapple. Not my bag, but if you're a fan of the sugary treat, you can enjoy these gluten-free, non-GMO diet busters.
Potato Chips - Appearing at every Superbowl party and backyard BBQ since the beginning of time, potato chips are an American favorite. So it makes perfect sense that someone would eventually make weed-infused potato chips. There are several on the market, but if you want to kick things up a notch, check out Weetos Cheesy Poofs. While not a real potato chip, it is a crunchy snack enjoyed by millions and can be found on the chip aisle of every grocery store in the country. And it's a nod to South Park's Cartman who enjoys Cheesy Poofs regularly on the show. Cartman would be pleased, and so am I.
Pizza Sauce - Looking for a savory way to introduce cannabis into your diet? Look no further! Podey Pizza is marketing itself as the world's first pot-laced pizza sauce, but Colorado and Washington companies have been trying to make some dough by selling pot-infused pizzas and pizza products too. Perfect for a date-night, making home-made pizza with a twist should be on everyone's to-do list.
Salsa - Sweet Jane, an award-winning edible brand based in Canada, offers a unique CBD salsa. Made with simple ingredients, it provides a mildly spicy flavor. Perfect for dipping or adding to your favorite Mexican inspired meal. There are many others, so if you're feeling adventurous, try one of the hundreds of online recipes and make your own!
Soda - THC infused beverages have become a staple at most dispensaries. There are so many to choose from it can be overwhelming. A few of my favorites are made by Dixie Elixir, a Colorado-based cannabis company. Keef Cola and Sprig are additional brands that make a solid showing in the infused beverage market. So whether you're looking for a fizzy drink to make you high, or just looking to stay high-drated, enjoy a THC-infused soda. But buyer beware, some infused drinks have 100mg per container, so read the label carefully so you're not over indulging.
That wraps up what I have found as the most unique, unusual, and inspiring cannabis-infused food products on the market today. Get out and start exploring what your dispensary has to offer. Ask your bud-tender for recommendations; they see and sample most new products and are a wealth of helpful information.