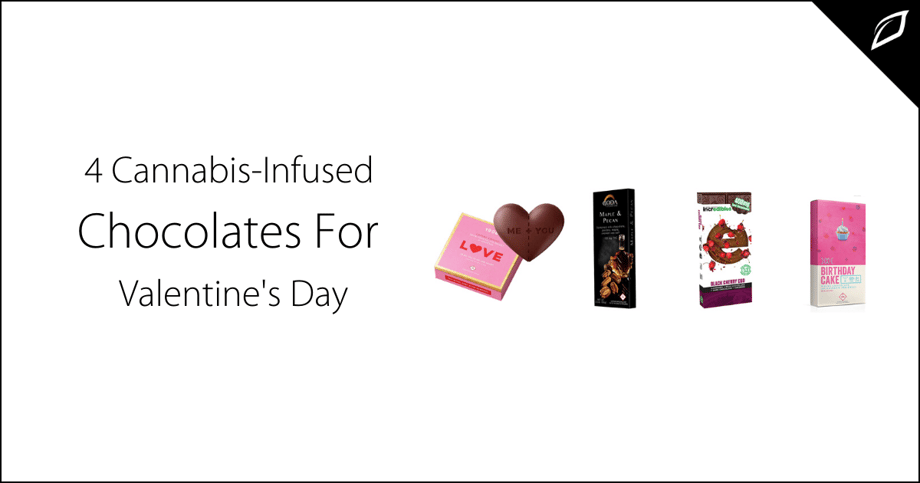 Valentine's Day is a time to celebrate that special someone in your life. If you're single, it's a time to avoid going out to dinner or the card aisle at Target, but it is a uniquely special time of year if you love chocolate. And who doesn't love chocolate!? Especially when they're infused with cannabis and or CBD. So check out my personal favorite cannabis-infused chocolates to celebrate this auspicious occasion.
1906 Lover's Edition Heart-Shaped Chocolate Love.
Lover's Edition combines five herbal aphrodisiacs with cannabis to create what they call "the best sex drug in the world." It's formulated for both a physical and psychological high, working to increase blood flow while also helping you relax and get out of your head. Hugely satisfying, Lover's Edition is a cannabis-infused heart-shaped, dark chocolate treat that is meant to be shared with your partner. Formulated for the perfect 'date night,' it's designed to get your juices going and get you in the mood for love, but only for a limited time as this product is only on store shelves for a short time. It's both fast acting and does indeed deliver the goods on increasing libido. The chocolate isn't overly sweet, and it is delicious, so get out there and get yours before they're gone!
Coda - Maple & Pecan Chocolate Bar
A splash of sweet maple, smooth pecan butter, and a bit of hearty wood smoked sea salt further enhances the depth of flavor in Coda's custom-blended darkened milk chocolate. Coda makes some of my favorite chocolate bars. Each square is 10mg, and while you may be tempted to eat the entire South American darkened milk chocolate, pecans, maple, smoked sea salt bar on your own, we suggest sharing and only eating the recommended dose. It was the winner in the 2018 Connoisseur's Choice awards.
Incredibles - Black Cherry CBD Bar
Since its debut in 2015, the Black Cherry CBD Bar has racked up an impressive array of awards, including the 2015 THC Championship Best CBD Edible award; the 2015 Edibles List Best Whole Plant CBD award and the 2016 High Times Cannabis Cup SoCal Best CBD Edible award. The Black Cherry CBD Bar combines rich milk chocolate with decadent dried cherries and is available in several strengths for medical and recreational dosing. Every batch of incredible bars is triple-tested for quality and dosing accuracy. They develop and produce all their bars in-house using sustainably-sourced oil. And for those who are sensitive to gluten, Incredibles chocolate bars are gluten-free and non-GMO. It's smooth and decadent flavor is perfect for sharing with that special someone.
Dixie's Birthday Cake white chocolate bar with sprinkles.
This an all-time favorite. My best friend was born on Valentine's day, so I thought this was a fitting addition. It tastes like vanilla frosting but not overly sweet. It delivers a decent dose per serving of 8mg, not too strong and not too weak. And if you care about the planet, you may be pleased by the fact that Dixie launched its Go Green initiative and partnered with One Tree Planted, a nonprofit that works with reforestation organizations around the world to get trees in the ground.
That's it! I hope you're inspired to try something different this year because no one wants edible undies, but everyone wants cannabis-infused chocolates!