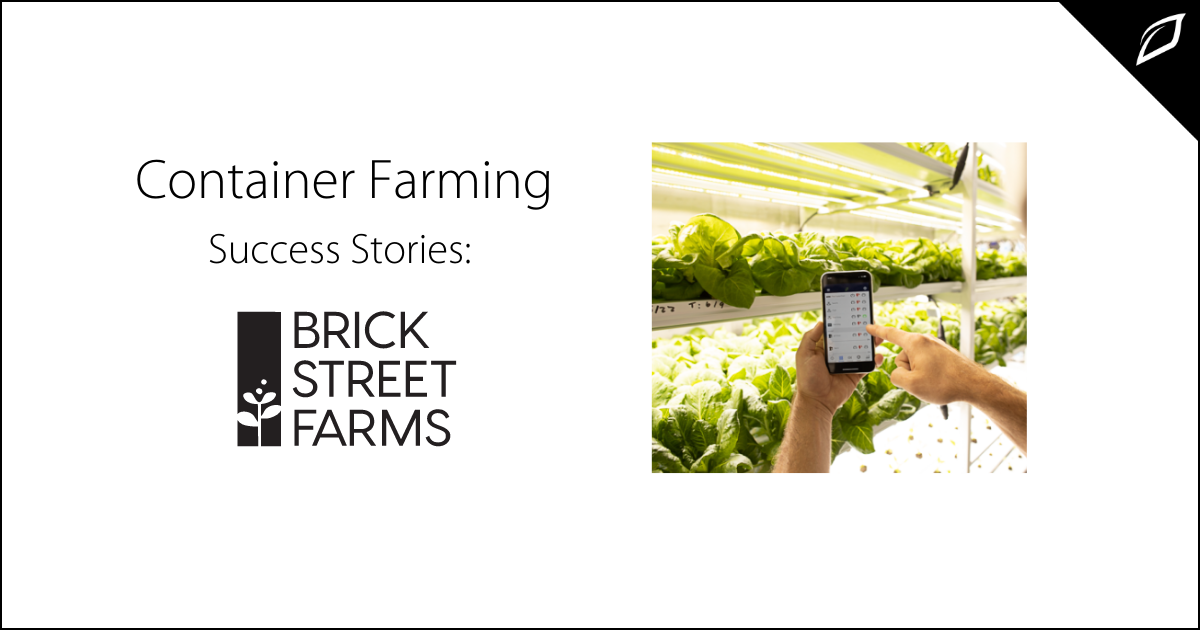 Success Stories: Brick Street Farms
Growing produce in retrofitted shipping containers has received notable buzz over the past five to ten years as produce is grown locally and organically, in most cases. The fully insulated contained structure allows for year-round growth regardless of harsh, exterior environments. Container farming has many benefits, including reduced water usage and the lack of need for harmful pesticides.
But container farming has it's detractors as well. Upfront costs can be prohibitively high, given the cost of the container is just the beginning depending on where you buy. Most will require supplementary automation technology to produce profitable yields. Given the popularity and the difficulty in managing a profitable container farm, we were excited to talk to the CEO of Brick Street Farms Shannon O'Malley. Her success in Florida container farming is inspiring. She and her partner (and love interest) Bradley Doyle began a small backyard experiment in hydroponic growing of lettuce and kale. "We were hobby outside hydroponic growers in Florida that were tired of it all dying in the summer months and was looking for a way to have something climate controlled that could be added to our home property."
"While a shipping container didn't fit the bill for a home property, it did provide the spark for me to dream up Brick Street Farms," Shannon commented.
Shannon's passion for health-conscious local foods and their collective passion for technology as a solution to almost any problem inspired Shannon's creativity. Building a permanent indoor structure was too cost-prohibitive. Enter the up-cycled refrigerated shipping containers which landed on an abandoned stretch of land in downtown St. Petersburg, Florida, in August 2016. Cultivation began in October that year after water and electricity were finally installed. Plans to expand include increasing growing capacity to fourteen containers on-site.
Brick Street Farms grows year-round, 365 days a year, hydroponically in a nutrient-dense water solution. Because the crops are harvested at the point of consumption, it reduces lengthy transportation time and costs, while providing a significantly longer shelf life. This further helps reduce Brick Street Farms' carbon footprint while "simultaneously driving significant advancements in localized food production," according to the official company website.
We asked Shannon how she decided on what crops to grow. "Primarily working with our community's professional chefs for the first couple years we were open. I literally took a seed catalog to executive chefs and sat down with them to ask them what they wanted us to grow for them. Some varieties worked well, others did not and through trial and error we landed on our core set of varieties." Great advice from someone who has beaten the odds in container farming.
Growlink, a leader in agricultural automation, assisted Shannon and Bradley by creating custom panels to house every aspect of their agricultural automation. It's proven to be a fruitful collaboration for everyone.
We asked Shannon to comment on what challenges she faced as a successful businesswoman in a difficult industry. "The same challenges every woman in my position faces, constant disbelief, but there have also been many that have come to support me." When we asked Shannon what the most satisfying part of being a successful businesswoman was, she answered, "Building something from the ground up and seeing all the hard work and total sacrifice start to come together. It's not easy giving up a kooshy six-figure corporate America career to do something like this where I didn't get paid for a couple years; it all went back into the business."