As Growlink continues to grow, their team members increase, and how the company celebrates them also changes. With so many new employees this year, the company wanted to bring everyone together, including their families. So, the Growlink Picnic & Games was conceived!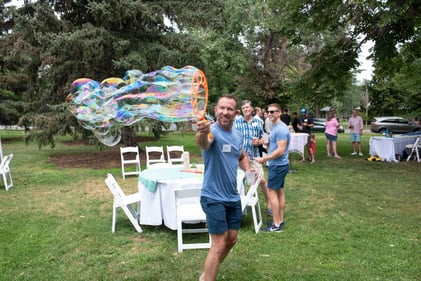 Growlink CEO Ted Tanner shows off his bubble skills~

On Saturday, July 31st, the extended Growlink family gathered at Observatory Park in Denver, Colorado for a day of games of skill and chance providing many opportunities for embarrassment, celebration, and prizes. The "Growlink Olympics" were a competitive and fun endeavor, and everyone had a great time. Winners were announced at the conclusion of the games with team Kandi & Dustin taking the gold medal, Team Uchit, LeeAnn, & Kelly taking the silver, and Team Ted & Carmen taking home the bronze. But let's face it, they're all winners!


The games included badminton, cornhole, lawn pong, and Frolf, a mini frisbee golf game. Growlink chose teams at random to help facilitate employees getting to know each other. And it worked! Everyone had a blast, and even the weather cooperated with a cloud cover to avoid overheating. In addition to the official company Olympic games, there was also croquet, volleyball, standard frisbee, bubbles, and wooden airplanes for entertainment.
Gold Medal winning team Kandi and Dustin demonstrate their superior cornhole skills all while eating an ice cream, now that's talent~

Technician Scott Merrifield kept the event rocking with some sweet tunes, and there was plenty of food and drinks to go around. Team members received company t-shirts and spent time getting to know their fellow co-workers in a non-work environment. The entire event was a huge success and I for one can not wait for next year!
Enjoy our recap video and some additional images!